Normal Skin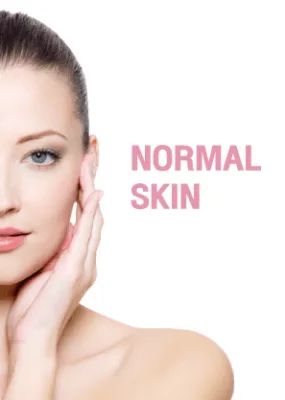 Normal skin
"Normal Skin"will look soft, glowing, elastic, moist, with small pores, as well as tightened. People with this type of skin do not have many skin problems, while "combination skin" will be seen by using facial tissue to wipe off your face in the morning after waking up, and you will see a small amount of oil on the t-zone (forehead-nose).
How to take care of normal or combination skin.
You should take care of the skin by protecting your skin from pollution, avoiding exposure to UV rays, sunlight, wind, and very dry weather and use products that are gentle for the skin (normal skin), wash and clean facial skin every morning and before bedtime. After that, you should wipe over the face with toner in order to help your skin to be balanced and tighten pores to get ready for skincare routine in the next step.
For skincare products should contain properties to protect the skin, maintain moisture under the skin layer, and moisturize the skin all day long. You should use a moisturizer to add moisture to the skin. For the daytime, do not forget to apply sunscreen as well in order to help prevent the skin from being damaged by sunlight and pollution. You may scrub your skin to remove old skin cells, which will stimulate the creation of new skin cells and make your skin look bright, radiant, and healthier.in.